On Wednesday 3rd June 2015, Milton Keynes Against the Cuts (Milton Keynes People's Assembly) and The People's Assembly are holding a public meeting to discuss what happens now after the general election and how we build a society that works for the people.
GMB Milton Keynes City Branch are proud affiliates to The People's Assembly, and we encourage members to attend and have their voices heard.  If you would like more information about the event, or to register your attendance, please follow the link below or view the attached flyer.
Register your attendance here.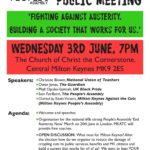 Posted: 26th May 2015