Milton Keynes' trade unions have organised a commemorative event to mark International Workers' Memorial Day (IWMD). IWMD gives everyone an opportunity to remember those who have been seriously injured and those who have died as a result of an accident at work, and also people who suffer from work-related illnesses.
The internationally recognised date for IWMD is April 28; the Milton Keynes commemoration event will take place this year on Sunday 28 April at the MK Rose, Campbell Park. We will gather at the John Lewis car park from 11:30 and lead a short march to the MK Rose for a minute's silence at midday. Speakers include Cllr Martin Petchey (Mayor of Milton Keynes), Cllr Pete Marland (Leader of Milton Keynes' Council), and a national officer from Unite trade union.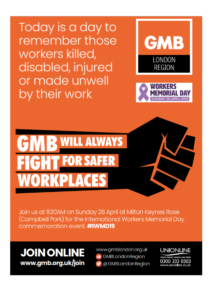 Remember the dead, fight for the living.
Posted: 10th April 2019