This year on Sunday 24 April members of GMB Milton Keynes Branch met to commemorate International Workers' Memorial Day (IWMD) at the MK Rose, where the is a column marking the day. There were also delegations from other unions including USDAW, UNISON, and UNITE, as well as representatives of MK Council and the Labour Party, with members of the public also joining the commemoration.
There was a short procession from MK Theatre to the MK Rose followed by a minutes silence. The programme also included speeches from Shelly Asquith (TUC Health, Safety & Wellbeing Policy Officer); Peter Marland (Leader of MK Council); Mohamed Khan (Mayor of Milton Keynes); and Emily Darlington (Deputy Leader of MK Council Labour Group).
IWMD gives everyone an opportunity to remember those who have been seriously injured and those who have died as a result of an accident at work, and also people who suffer from work-related illnesses.
We also encourage everyone to mark the official date for Workers' Memorial Day on 28 April with a minutes silence at 12:00.
If you would like more information on Workers' Memorial Day or resources to help you organise an event in your workplace, please get in touch via the contact form on this website.
We hope to see you at next year's event.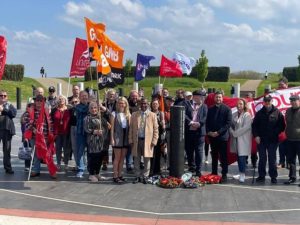 Pictured: Trade Union and Labour Party delegations with members of the public at MK Rose for Worker's Memorial Day 2022.
Posted: 28th April 2022